Our Team Gets Better With You!

At L&N, our mission statement is "To Bring People Together, to Enrich Their Quality of Life, and Build Permanent Relationships." This statement is not just true for our members, but also our employees. Since 1954, L&N has served the community and provided our employees with rewarding and dependable careers. If you're interested in working (full-time or part-time) for a growing, service oriented financial institution with excellent benefits, we would love to hear from you!
L&N Federal Credit Union works closely with our members, communities and employees to advance a company culture that embraces diversity, fosters equity, inclusion and welcomes ideas and perspectives from all cultures. For L&N, creating a diverse and inclusive workplace is a strategic business priority that fosters greater connection to the communities we serve.
L&N Federal Credit Union is an equal opportunity employer.
Click the Open Positions button to view all available jobs or scroll down to view more L&N benefits.
Learn More About L&N and What We Do
Helpful Links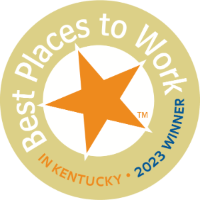 VOTED A BEST PLACES TO WORK
FOR 8 CONSECUTIVE YEARS!

Training & Development
Job training and self paced online learning to help you learn a new skill or improve your current job function.
Leadership Development
Designed to develop skilled leaders who will inspire and motivate their teams to constantly do better.
Education Assistance
Eligible employees may receive education assistance for college expenses.
Healthcare
Comprehensive medical, dental and vision plan that starts on your first day of employment.
Wellness Reimbursement
Receive a wellness activity reimbursement per month for a gym membership, yoga classes, Weight Watchers, etc.
Paid Time Off
Employees receive Vacation, Personal Days, Sick Time, and Paid Holidays.
Employee Assistance Program
Support for employees and their families for personal and workplace issues.
Life Insurance, AD&D, Short &
Long Term Disability Coverage
Paid for by L&N.


Additional Voluntary Benefits
Supplemental Life Insurance for employee, spouse and dependent children, Accident Insurance, Critical Illness Insurance, Identity Theft Protection
Retirement Savings
Invest in your financial future with a 401K. L&N provides a generous company match.
Employee Loan Discount
L&N employees receive discounts on Credit Cards, Auto Loans, Mortgages, Personal Loans.
Anniversary Service Awards
Cash awards given at anniversary date.
Incentive and Bonus Potential
May be available dependent upon credit union and individual performance.