Android Pay is Now Google Pay!
Fast, simple checkout. Easy access to rewards and offers. One spot for purchases, passes, and payment methods. All of these are ways we've been working to make paying safer and easier for everyone, everywhere. And you can make the most of these features with the new Google Pay app for Android.
The app, which begins rolling out today, is just one part of everything we've got planned. We're currently working on bringing Google Pay to all Google products, so whether you're shopping on Chrome or with your Assistant, you'll have a consistent checkout experience using the cards saved to your Google Account. We're also working with partners online and in stores, so you'll see Google Pay on sites, in apps, and at your favorite places around the world.
As we continue to expand to even more devices and services, the new app offers an exciting glimpse of what's to come. Here's a closer look.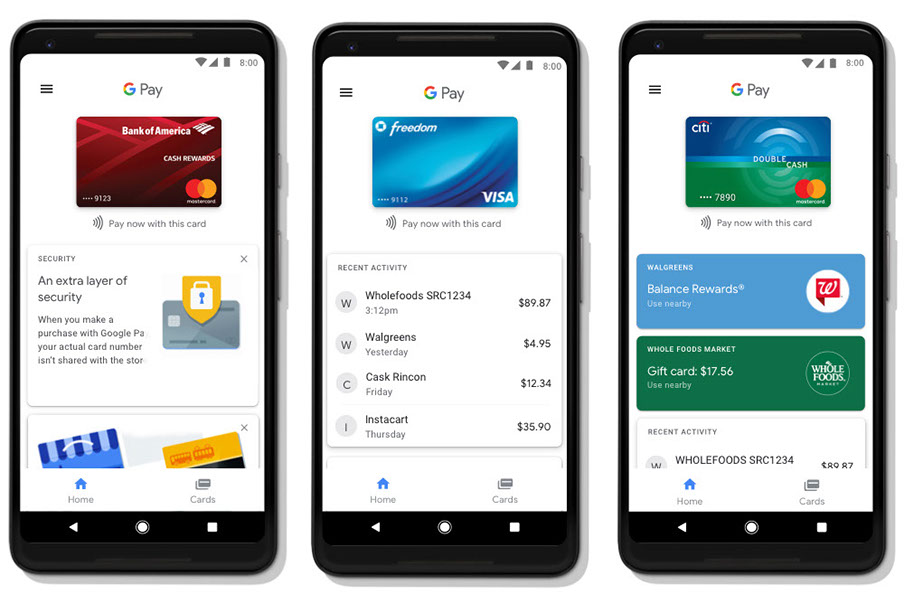 Helpful info while you shop

Google Pay's new Home tab gives you the info you need, right when you need it. See your recent purchases, find nearby stores, enjoy easy access to rewards, and get helpful tips.
A New Spot for Your Stuff

The Cards tab is an easy way to keep everything you need at checkout organized and at the ready. It's where you'll store your credit and debit cards, loyalty programs, offers, and even that stack of gift cards from last year's birthday.
Google Security and Encryption

All Your Favorite Features
Longtime Android Pay fans, fear not: the features you love aren't going away. You'll still get all your bank's perks and protections, plus an extra layer of security, since Google Pay doesn't share your actual card number when you pay in stores. And those online payment forms that take forever to fill out? Just choose Google Pay at checkout and pay with a few quick clicks instead.
And more features are coming. If you live in the U.S. or the UK, you'll be able to use it to send and request money within the next few months. In the meantime, the Wallet app is now called Google Pay Send, and we're giving it a fresh coat of paint to go with the Google Pay brand.